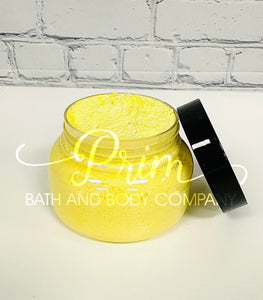 Oatmeal, Milk + Honey Whipped Sugar Scrub
Snag this Oatmeal, Milk + Honey Whipped Sugar Scrub to enjoy the smells of fresh aroma of hawthorne, with nuances of creamy French vanilla, soy milk and a base note of nutty almond.

Use as you would any scrub! Hands, feet, legs, arms, the choice is yours! Exfoliate, relax, enjoy, repeat!

Each scrub is 8 oz. in weight.

Use this in the tub or shower. Scrub the desired area, and rinse! It's amazingly moisturizing but doesn't leave you greasy! 

Each scrub will come individually packaged in a double walled jar!

None of our products are tested on animals and are all 100% handmade.

Ingredients in each scrub include: Glycerin, Water, Sodium Cocoyl Isethionate, Sorbitol, Propylene Glycol, Disodium Lauryl Sulfosuccinate, Stearic Acid, Sodium Chloride, Diazolidinyl Urea, Iodopropynyl Butylcarbamate, White Sugar, Fragrance, Colorant!

Please check shipping details for accurate shipping and contact me if there are any concerns or questions when ordering.

Feel free to like our facebook page: https://www.facebook.com/primhandmade/?fref=ts
& Instagram also: https://www.instagram.com/primhandmade/

Lastly, if you have any questions about anything, would like a custom order, or if you're interested in anything for party favors, wedding favors, etc. please feel free to message me directly! I'll help in anyway I can!

Have a great day| Thanks for shopping!